Your Patient
A 32 year-old, 60 kg female presents to the emergency department with a history of ALL actively being treated with chemotherapy and recently discharged about a 6 weeks ago for neutropenic fever from a urinary tract infection. Here are the pertinents:
VS: 39C     125      95/55      18      96% on 2L NC.
Exam: Notable only for a mild erythema over chest wall port site.
Labs: WBC of 0.3 and a mildly elevated Cr to 1.4 (baseline 0.8), but lactate and remainder of lab panel was normal.
The patient is quickly diagnosed with neutropenic fever & sepsis (arguably severe sepsis). An empiric 30cc/kg of lactated ringers is given which improves her HR to 95 bpm the BP is now 110/65 mmHg. The patient is rapidly given a dose of cefepime, followed by vancomycin. Within 3 hours the patient is out of the ED and on the oncology floor.
The inpatient team reviews her previous labs & microbiology data and find that her previous UTI was from a MDR klebsiella – resistant to cefepime. The patient is given a dose of meropenem around 2230. At 23:30, the patient is found to be in mild respiratory distress and florid septic shock. Repeat vital signs: 38.9C 136 78/42 30 98% on 2L NC.
Where did it all go wrong?
The 2015 Surviving Sepsis Campaign Bundle
We all know the "rules" for sepsis resuscitation – fluids, early antibiotics, MAP > 65, lactate normalization, culture every orafice you can find, etc. But it's important to remember that ticking the boxes does not translate to adequate resuscitation and high quality patient care. But how did a patient who's management seemed so straightforward turn out to be a set-up for disaster left on the medical ward?
One of the most important concepts that is often left out of the commonly quoted "early antibiotics" mantra is appropriate antibiotic therapy. While it is often difficult to determine what is appropriate for each patient presenting with severe sepsis, there are a number of tools that must be considered what choosing your gorillacillin variant (local antibiogram, patient's relationship with the medical community, previous culture data, etc.)
Two articles that have been published within the past month highlight the impact of early vs. early AND appropriate antibiotic therapy.
Just giving early antibiotics isn't enough…

Alan Jones' group recently decided perform a systematic review and meta-analysis of studies looking at timing of antibiotic therapy and mortality in severe sepsis and septic shock – largely in response to the Surviving Sepsis Campaign's (SSC) recent recommendation that,
The administration of effective IV antimicrobials within the first hour of recognition of septic shock(grade 1B) and severe sepsis without septic shock (grade 1C). Also, broad-spectrum antibiotic therapy should be administered within 3 hours from ED triage.Surviving Sepsis Campaign (2012)
What did they find? Well, after including over 16,000 patients in there analysis they found no significant improvement of mortality if antibiotics administration met the standards set by the SSC. Obviously there are a number of confounders here because sepsis care is multifaceted and encompasses multiple resuscitation goals. One of the most important limitations that this study could not address was the ability to limit their analysis to studies examining appropriate or effective antibiotic therapy.
Don't just tick the box, be thoughtful in your antibiotic choice!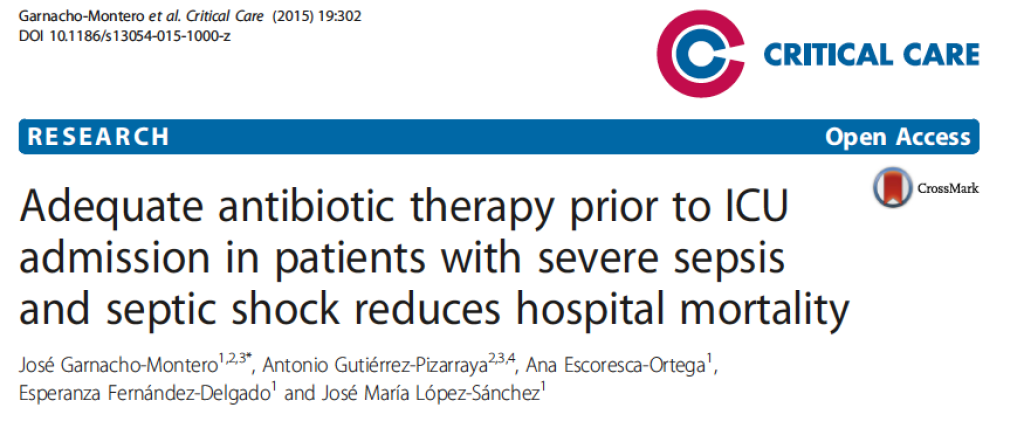 A second article published this month highlights the importance of early and adequate antibiotic therapy. Critical findings in this study include:
Inadequate therapy prior to ICU admission was more frequent in nosocomial sepsis.
The administration of adequate empirical antimicrobial therapy early was protective for mortality.
A majority of the patients (98.3 %) had received at least one dose of antibiotics before ICU admission although it was inadequate in 31 % of patients.
Progression to septic shock occurred more frequently in patients with severe sepsis who received inadequate antimicrobial therapy prior to ICU admission.
Commonly cited independent risk factors for multidrug-resistant pathogens include:
Age > 60
Hospitalization in the previous year
Infection by pathogens from the ESKAPE group (E. faecium, S. aureus, K. pneumoniae, Acinetobacter, Pseudomonas, Enterobacter)
Immunocompromised patients
Back to our patient…
This patient had a number of risk factors for nosocomial sepsis and a multi-drug resistant organism. It is likely that the change in antimicrobial therapy that reflected previous culture data (adequate antimicrobial coverage based on previous cultures) led to the patient's progressive SIRS response and hemodynamic compromise.
Bottom Line
The mantra of, "Early antibiotics" often gets marginalized to broad spectrum antibiotic therapy. Routine broad-spectrum antibiotics will fail if you don't look through recent microbiology reports in patients identified as at-risk for resistant organisms.
Perhaps instead of recommending early antibiotics, we should be moving toward more personalized quality metrics that might include reviewing previous culture data, baseline blood pressure, ect. Remember that guidelines and protocols are exactly that, general recommendations.  Quality care may need to deviate from protocols in certain situations, so be thoughtful about your resuscitation.  Check for previous culture data on high risk patients as this should hopefully tailor your resuscitation therapy to include not only early, but appropriate antibiotic therapy & source control.
References & Recommended Reading