The need for effective team leadership is probably one of the most important aspects of running a successful medical, trauma, & cardiac arrest resuscitation. The primary literature is littered with research aimed at describing effective leadership strategies during high-quality resuscitation teams. But at the end of the day, the key word here is… team.
Now I have to say, the ResCCU nurses, techs, and physicians are by far some of the most talented clinicians I've ever worked along side. Our debriefings often highlight minor details that we all recognize collectively are important – but in general our teams work together very effectively. But in an effort to constantly be improving, this past year we regularly collected team feedback after acute medical resuscitations, and one common theme arose from the discussions – members frequently cited an inadequate understanding of their role during the resuscitation.
As a result, last month, our ResCCU reinvigorated our approach to team resuscitation with the introduction of our resus role cards – which are particularly aimed at medical resuscitation for cardiac arrest. We decided to introduce physical role cards that could be handed out either prior or at the initiation of cardiac arrest care.
While developing these role cards, we performed a number of in situ simulations and quickly realized that it wasn't only the defined role was important, but also the assignment of specific tasks that would be accomplished that needed to be delegated. And beyond the specific tasks, timing of each task was also very important.  Many of the roles had multiple tasks that needed to be completed, and if left to the individual to remember, it was clear that the cognitive load during this relatively intense work period would often lead to excessive task and role switching.  Reviewing these assignments ahead of time (prebriefing) was helpful, but it was clear that the loger the resuscitation went on, the team choreography routinely degraded.
As a result, we designed our resuscitation cards to not only have role descriptors, a number of other elements including expected tasks, body positioning, and reminders about where others would be positioned within the resuscitation.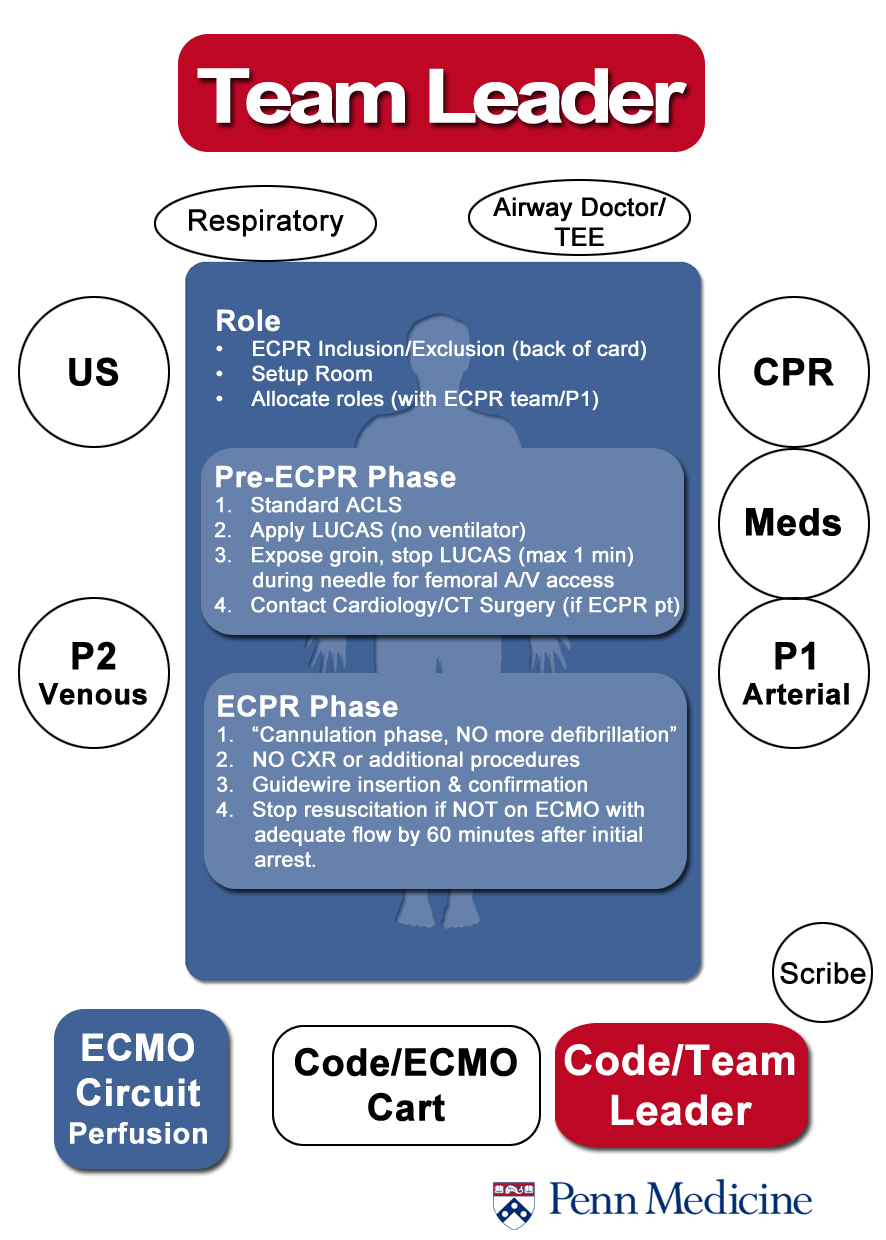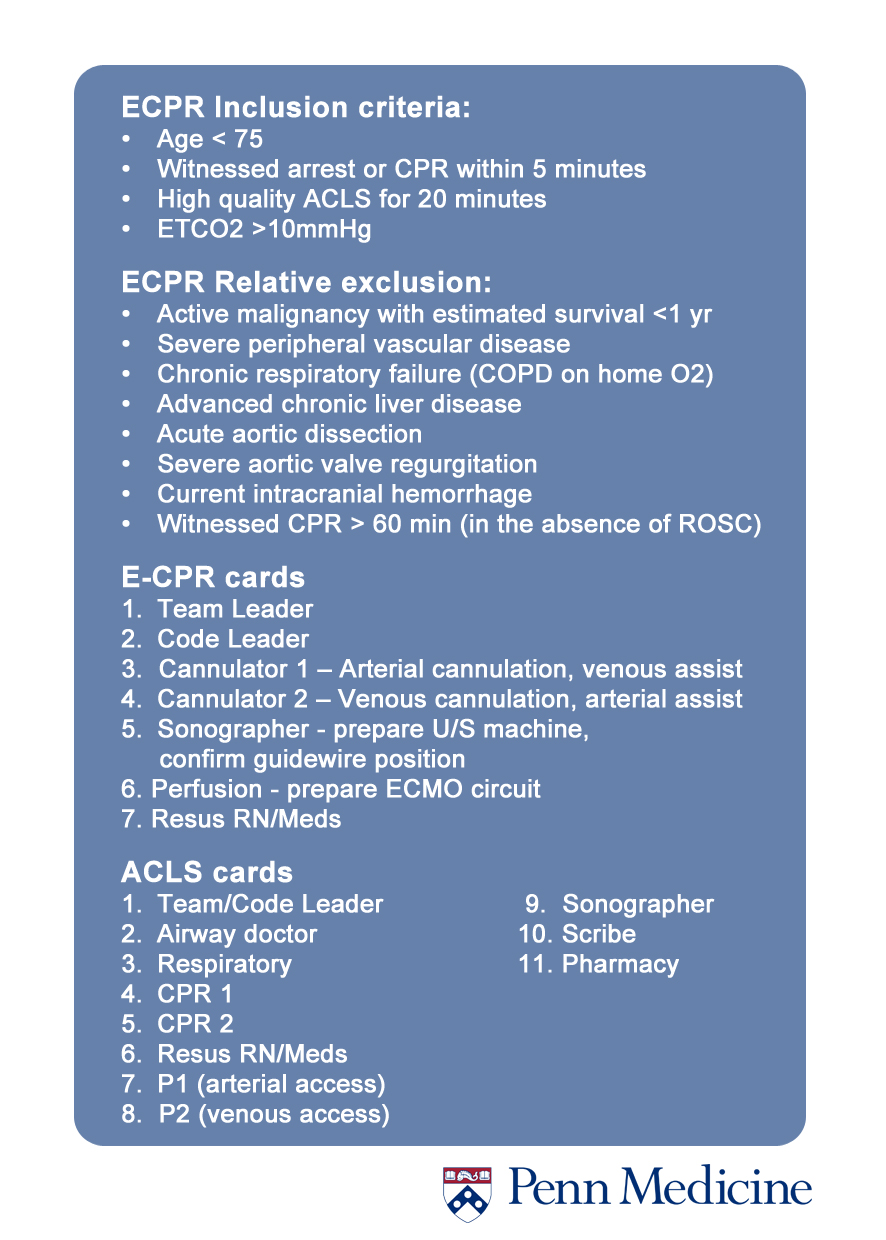 Resuscitation Roles
Team Leader: Senior physician who checks ECPR inclusion/exclusion, role assignment and physical member positioning, and manages the overall room.
Code Leader: Senior resident/nursing lead responsible for reviewing ECPR criteria, ensuring CPR quality metrics, mechanical CPR device placement, and run ACLS (if applicable)
Airway physician: Places definitive airway when appropriate, ensures appropriate ventilation, then transitions to place/review TEE for CPR adequacy and assessment for reversible causes.
Resus Nurse 1: Establishes peripheral IV access, initial blood draw/gas, administers medications.
Resus Nurse 2: Assist to Resus Nurse 1, prepares/readies arterial line pressure bag.
P1 (Proceduralist 1): Removes clothes on left side, places IO if necessary, then prepares for US guided CFA line placement for ECPR (if indicated) or to monitor for adequate CPR, obviate need for "pulse checks"
P2 (Proceduralist 2): Removes clothes on right side, assists P1, then places CFV central line on right for ECPR cannulation (if indicated), and stable IV access.
CPR 1: Resuscitation technician responsible for 1st 2-minutes of CPR, then ensures capillary glucose checked.
CPR 2: Places patient on the clinical monitor (first) then prepares and places mechanical CPR device prior to exiting.
Pharmacy: Clinical pharmacist or nurse who prepares meds to be administered.
Sonographer:  Responsible for cardiac activity eval (when appropriate) and for preparing sterile US probe to P1/P2.
Scribe: Resus documentation and time keeper.
Clearly we have identified a number of roles, and depending on the personnel available may or may not be able to individually assign each role. We are very fortunate to have an abundance of resources and recognize that this may not be feasible at every institution. These role cards were made specifically for the use of our unit and are in no way representing the opinions of our institution/employer.
A printable version of these individual cards can be downloaded here below:
    Penn ResCCU Resus Role Cards [Penn ResCCU Resus Role Cards]
Resources
Cooper S, Wakelam A. Leadership of resuscitation teams: "Lighthouse Leadership'. Resuscitation. 1999;42(1):27-45.
Alfred ICU – ECPR Role Cards and How They Run Their Resuscitations [Intensive Blog]. Design inspiration for our own team role cards.
Haerkens MH, Kox M, Lemson J, Houterman S, Van der hoeven JG, Pickkers P. Crew Resource Management in the Intensive Care Unit: a prospective 3-year cohort study. Acta Anaesthesiol Scand. 2015;59(10):1319-29. [Pubmed Link]
Hunziker S, Johansson AC, Tschan F, et al. Teamwork and leadership in cardiopulmonary resuscitation. J Am Coll Cardiol. 2011;57(24):2381-8. [Pubmed Link]